If you like what you see & even if you don't, let me know
Sign My Guestbook
View My Guestbook

What We Did

Brought to you by: Turtle of B.A.D. M/C

B.A.D. M/C Who We Are Run Calendar Links

3RD. Legacy's 18th. Annual NCA Buck Meadows Run

It was my distinct pleasure to attend the 18th annual Buck Meadows Run sponsored by The 3rd. Legacy M/C this Memorial Day week end. I found it to be well organized with fun for all. Just goes to show there's "LIFE" after drugs!! Bikes were fantastic, people were great, games were great, food was great and prizes plentiful.

Of course all this came after my disastrous run there. It was Murphy's Law in action.
(If ya don't like sniveling, I don't unless its me doin it, skip this part , but its always the tuff stuff I remember, when everything goes right, it was fun... but oh well)
We left at 10:30am sure to be there by 2pm. after all its only 'bout 150 miles from Bezerkeley, but the sign in Oakdale was confusing and I didn't make the turn like I was suppose ta and ended up runnen all over hell & back, ended up on 99 goin south. Knew right away I was in deep shit, so got off in Delhi to check my map. (always carry em) Sure enough I had ta backtrack north to Medesto & catch 132 east there. Then up 49 to 120 east from there. All in all my mistake and re-route wasted about 3 hours farting around and getting back on track. (guess that's why Road Masters run the route first) What the hell, it was my first time there and anyone can make a mistake. Right? Then there was the foul up about the name of the motel. (gi-me a brake I'm older, wanted to ride and couldn't carry all that shit on my ride) Seems that they changed the name of the place and not knowing that, ended up runnin all over the place trying to find it. Even the locals didn't know the name had been changed, so I passed it at least 2 times before I got smart enough to call em to find out where the hell they were and that the name was changed. Made it all the way to Cherry Lake & back. (Nothing there but a power plant. Nice country though) Did find the camp ground OK it was well marked, so we checked in before continuing the motel hunt. Finally after all that we got to the motel, sore butt, neck, back, wrist, cramped fingers and all at around 9 PM. Total run time ten and a half hours for a 3 hour run. I know cuss that's how long it took to get home. No computer maps for me next time. I'll do it the "old fashioned way" I'll map it myself.
Any way, now for the good stuff. Pix and comments 'bout the right things with the run.
The 3rd. Legacy did themselves proud with this run. Everyone was friendly & helpful, there was any kinda bike you could want, from some fine old "Rats" to total custom. There were kid games as well as bike games and a poker run through nice country. A raffle prize table with so much stuff, that they were putting 3 or 4 prizes in a group just to get the raffle done. A fifty-fifty raffle that netted the winner over $240.00. Never ending coffee with a real nice dinner on Sat. Two 12 step meetings as well as an NCA meeting. There were motels & restaurants close at hand and windy roads to ride. In short "if ya didn't have fun it was yer own dam fault.
As I said before, we found the camp ground first and checked in with no problems. Then after a good nights sleep all our body parts were in good working order, so we were ready for fun & games, of which there was no shortage. First off there were: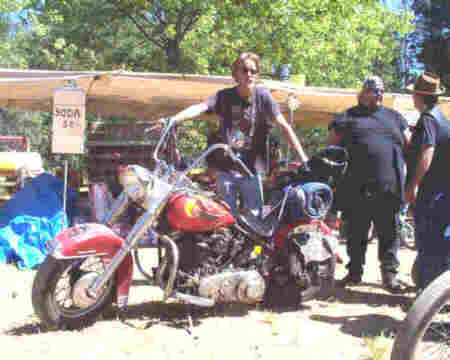 Al's '50 Pan took me back to the old days with its suicide clutch & asshole shift, it reminded me of my first bike.
A nice rat with almost all original parts there.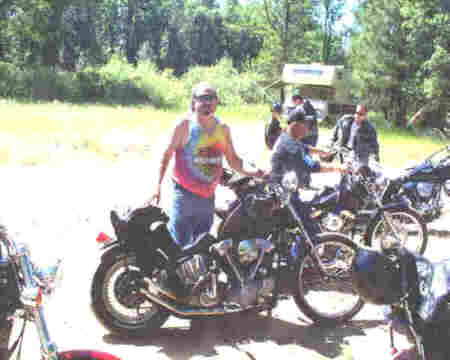 Howard Johnson's '47 knuckle, another blast form the past made a nice "Frisco Chopper"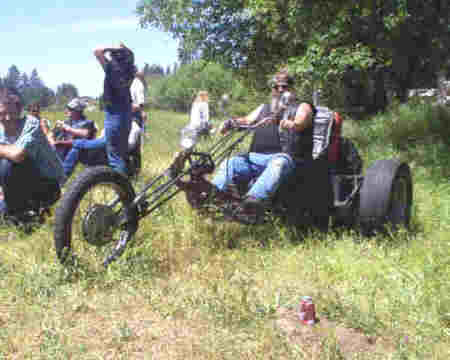 Larry's VW Trike (home built to last)
NitrosMike's ride (the nitrso bottle speaks for its self)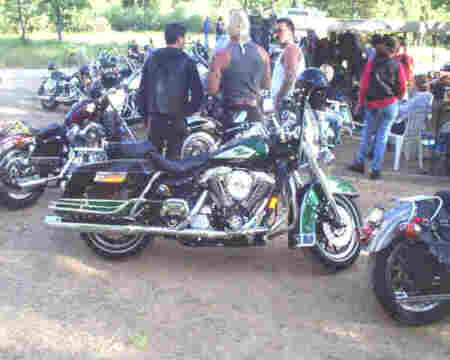 One of the many nice Baggers at the run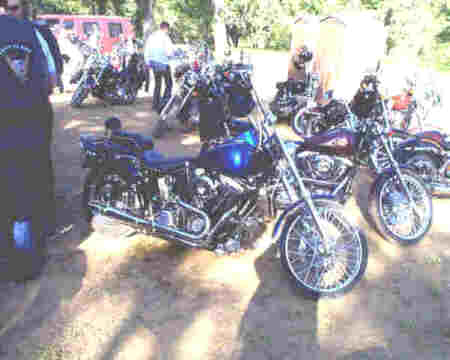 This one aside from just bein a nice clean ride has a really cool candy blue saran wrap paint with subtle white vainning.
THEN THERE WERE GAMES
How slow can you go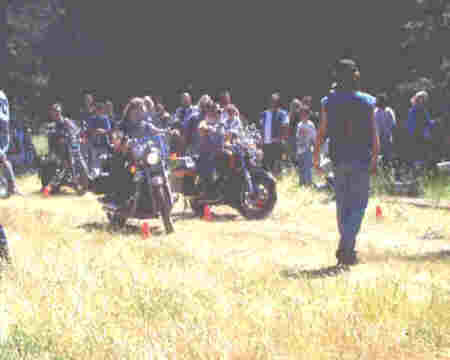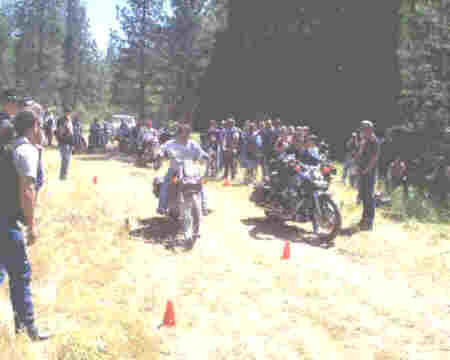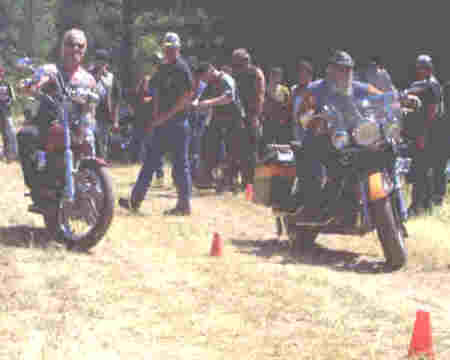 And the slowest of them all was NITROSMIKE
BITE THE WEENIE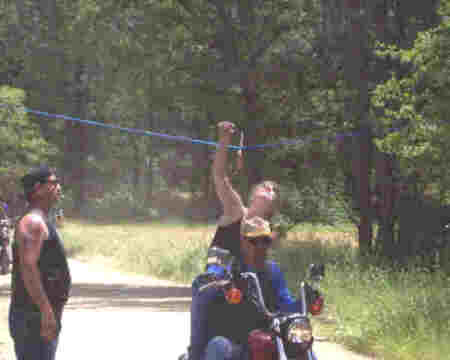 RIDE THE PLANK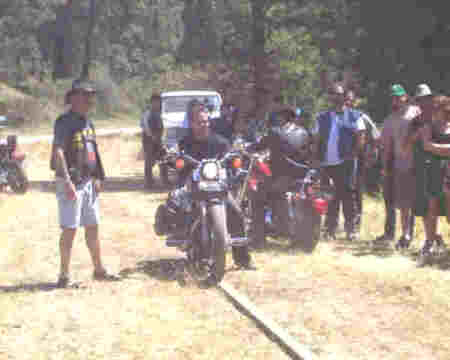 Jimmy rides the plank to a win
THERE WERE CLUBS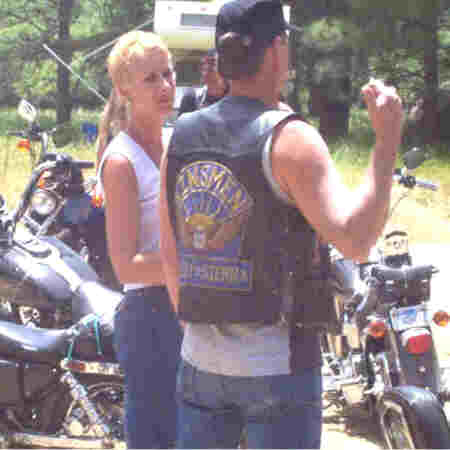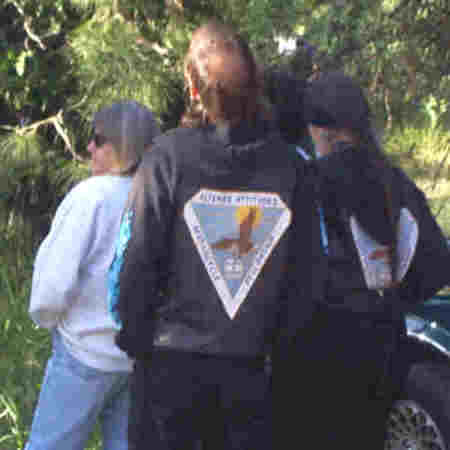 Kinsmen Altered Attudes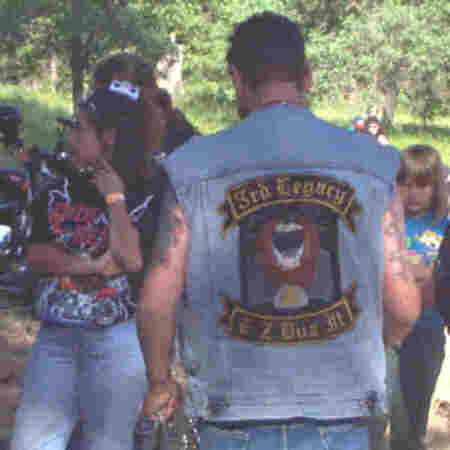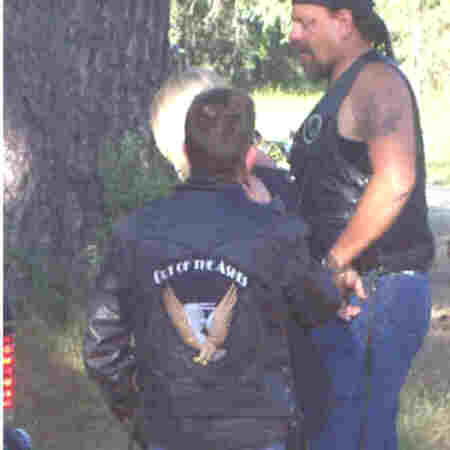 3rd. Legacy Out of The Ashes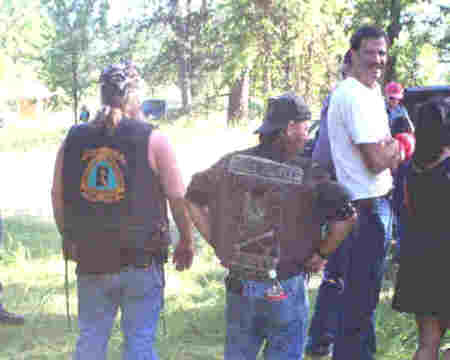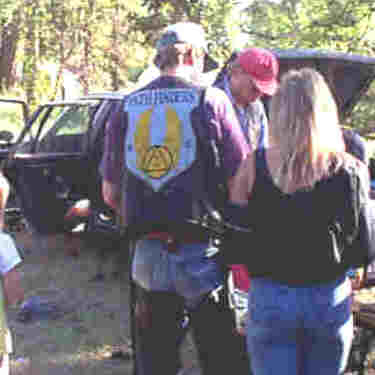 Christen Riders & Scull's Deciples Pathfinders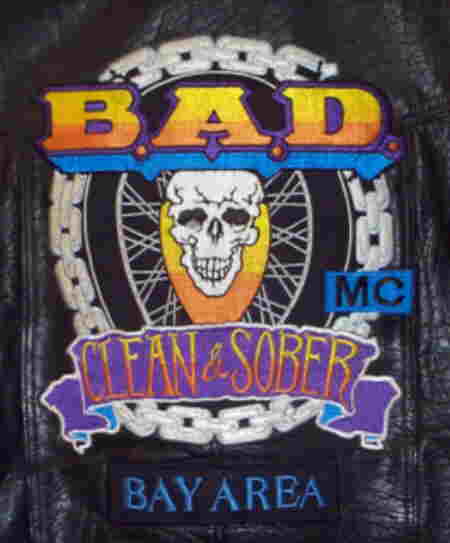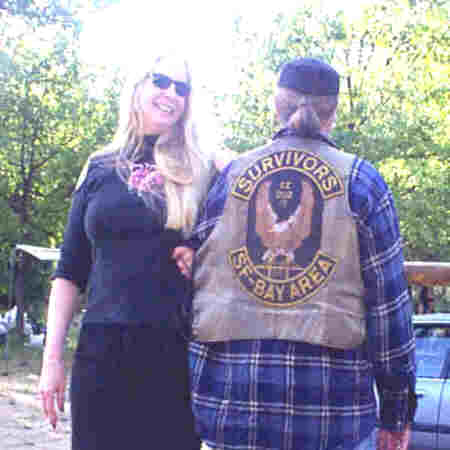 Bikers Against Drugs Survivors
Sober Biker